presskit() / dopresskit alternative:

In 2014, Rami Ismail's popular presskit() tool (pronounced do presskit) was announced, and it standardised the structure, layout and content of press kits for independent video game developers.
This was the result of consulting with numerous games press, journalists and content creators – and of course, many hours of development work.
But in 2023, with the proliferation of no-code tools and other developments in technology, it's no longer the perfect solution for everyone.
So let's review the pros and cons on 1) Ease of Use, 2) Customisability, 3. Integrations, and 4) Price — or if you're in a hurry, check the quick comparison table:
Quick Comparison
Feature
Press Kitty
presskit()
Editor
🟢 WYSIWYG & Markdown
❌ XML Files
Hosting
🟢 Hosting provided
❌ Requires PHP hosting
Downloadable
🟢 Image ZIPs
🟢 Image ZIPs
Supports Company Press Kit
🟢 Yes
🟢 Yes
Multiple Languages
🟠 Coming Soon
❌ No
Mobile View
🟢 Yes
🟢 Yes
Analytics
🟢 Google Analytics
🟢 Google Analytics
Steam Import
🟢 Yes
❌ No
Team Collaboration
🟢 Yes
🟠 Some – with Git
Developer Experience Required
🟢 None
🟠 Some – XML, FTP
Custom Domain
🟠 Coming Soon
🟢 Yes
SEO Optimised
🟢 Yes
❌ No
Open Source
❌ No
🟢 Yes (GPL-3)
Product Updates
🟢 Regular
❌ Never
Price
🟢 Free!
🟢 Free!
Example Press Kit
Ant Workshop (Company)
Dungeon Golf (Game)
Young Horses (Company)
Bugsnax (Game)
Link
Visit
Visit
😌 Ease of Use
presskit()
There's a lot of technical, manual work to use presskit(). You must first download a ZIP file and modify its set of XML configuration files. You can preview your press kit by setting up a local development environment – if you know how. Once you are done editing, you must FTP these files to an online web hosting environment that runs at least PHP5+. If your XML is not valid, or if your server isn't set up correctly, you will see errors that may not make sense. If all is well, your press kit is now online.
Keep in mind that manually editing files and going through this process is prone to human-input error, and has increased iteration time.
Press Kitty
To use Press Kitty, you must register for a free IMPRESS account, add your game, and select to create a press kit. If you have a Steam page for your game, your press kit will be automatically populated with its text descriptions and media assets (trailers and screenshots). You can easily modify your press kit with a visual editor, and adjust any game media from the safety of your web browser. Once published, your press kit is now online. You can edit it at any time, and even invite team members or game collaborators to update it on your behalf.
Overall, Press Kitty requires less technical experience, and has a visual editor and also collaboration features, and is therefore easier to use.
🎨 Customisability
presskit()
If you have development experience and are comfortable with modifying PHP, HTML and CSS code, you are able to customise presskit() as much as you like. You can fork the Open Source code, add sections to your tastes, and even directly embed it into your custom PHP website. However, with certain webhosts and website builders like Squarespace, you will not be able to do this as it does not support PHP.
Press Kitty
Press Kitty sticks to the standardised press kit format, to ensure that press and creators can find content as quickly as possible. It also natively supports adding brand guidelines, such as hex colour codes and font styles. Additional customisability may come available later – just let the team know what you want to see. Lastly, if you'd like to embed your press kit directly into your website, and you have the experience, you can use the REST API to request the data, like so.
Overall, presskit() is more customisable, but it comes with the difficulty and learning curve of requiring development experience.
🔌 Integrations
presskit()
presskit() optionally integrates with Google Analytics to keep track of who, when, and where from visitors to your press kit are made. It also integrates with Rami's distribute() tool – in alpha since 2014 – to enable preview build and key distribution. You can add further custom integrations through modifying the source code.
Press Kitty
Press Kitty also optionally integrates with Google Analytics to keep track of visitors to your press kits. It also integrates with Steam, allowing you to re-import screenshots and trailers directly from your store page – ensuring a "single source of truth" throughout development and saving you time in the long run. It also integrates with the rest of the IMPRESS marketing tools suite, enabling you to always show your best or latest press and content-creator coverage through Coverage Bot, and (eventually) also outreach to press and content-creators with preview build and key distribution through Launchpad.
Overall, both offer solid integrations. If you have a DIY attitude, go for presskit(). If not, and you have ideas or feature requests, the Press Kitty team will be happy to hear them!
💰 Price
presskit()
With presskit() you will need to have some external web hosting or web server to host your files on — and it will will need to be compatible with PHP and allow you to FTP or upload files directly. These packages can start at roughly $10/month. You will also need to purchase your own domain name.
Press Kitty
With Press Kitty, your press kit is hosted on your behalf at a custom impress.games url — and is completely free of charge.
Overall, while both presskit() and Press Kitty are completely free, there are additional external costs in setting up your own web infrastructure with presskit().
We therefore recommend getting set up with Press Kitty.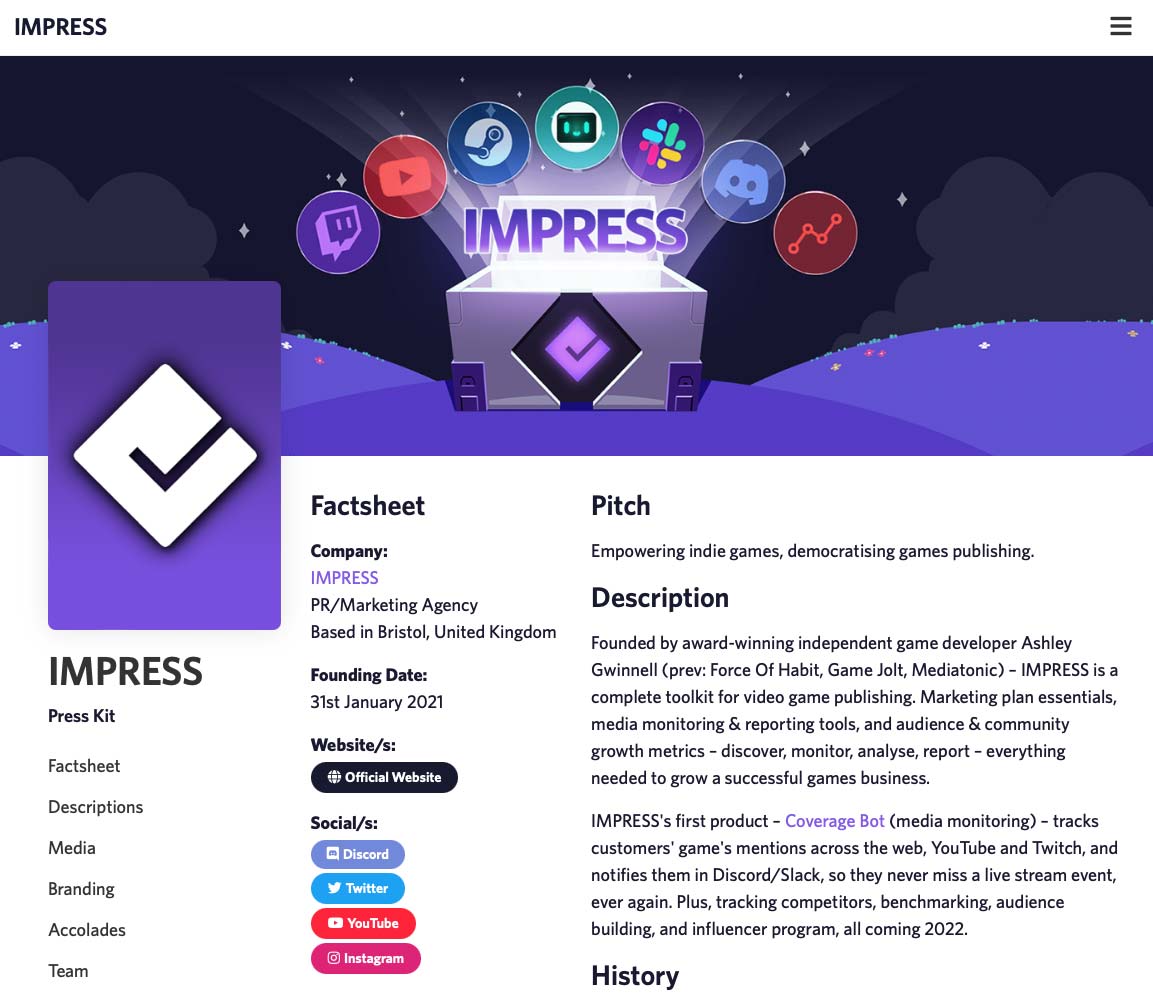 For further comparisons on free Press Kit tools for indie games, read our
blog post on the topic
— or find out more about Press Kitty in the links below!
- Ashley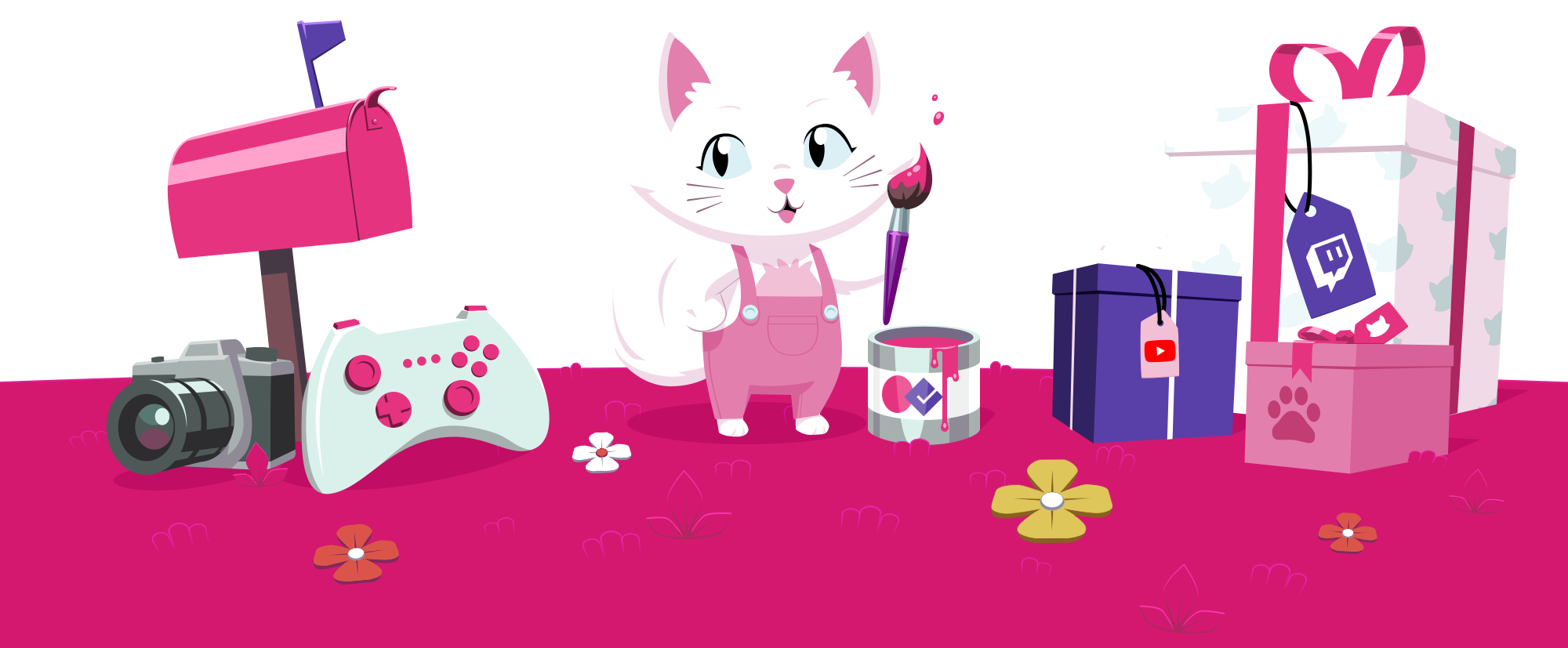 Sign Up, Today!
For access to:
Coverage Bot
Press Kitty (free)
Academy (free)
Steam Revenue Calculator (free)
...and more tools coming soon!

---
Get started with our innovative
video game marketing toolkit
, today!